UPDATE: 6:50 PM--FRIDAY, FEBRUARY 16, 2007--Keith Foulke has retired, and Joe Borowski has been named the closer of the Cleveland Indians. Foulke had felt soreness over the past 10 days while preparing for spring training.
"Over the last few weeks, while preparing for the 2007 season, my body has not responded as it has in years past," Foulke said in a statement. "I feel strongly I will not be able to perform at the level where I need to be to help the Indians this season. They are a class organization and I wish them the best of luck in 2007."
Mark Shapiro had nothing but positives to say about Foulke, who, by announcing before camp that he was retiring, gave up a 5 million dollar payday.
"He didn't want to disappoint the organization or his teammates," Shapiro said, praising Foulke's integrity. It's a blow to our depth," Shapiro said. "We knew there was risk involved in a number of guys we signed. It's disappointing, but at the same time we prepared to make adjustments in personnel, we're just making them faster than we had to."
Shapiro didn't stop there. When asked about Foulke's injury, Shapiro stopped short of spelling it all out.
"It would be more appropriate for Keith [to comment on the health issue] at a time he's comfortable," Shapiro said. "There were some historical [health] issues, and one of those issues acted up again on him. It wasn't something he was prepared to go through again. There was certainly some risk in the signing, due to his medical history," Shapiro said. "But he did pass our physical. With that being said, we entered into the contract knowing there were some health risks involved."
Shapiro didn't minced words when asked about his bullpen, and what spring training would bring with regards to the hole Foulke's retiring made.
"We no longer have a closer controversy, Joe Borowski's our closer," Shapiro said. "We'll tell our scouts to pay closer attention and highlight guys we had conversations about this winter," Shapiro said. "But we would like to get a full look at our guys in camp. Those guys will get opportunities, and they'll get better looks. Our offseason strategy, recognizing the limitations of the market, was to add depth, to add bulk," Shapiro said. "That strategy will be tested immediately with this news, and we'll react."
When asked about Foulke's retiring, Joe Borowski showed nothing but class.
"It's unfortunate, because him being in the bullpen would have made our bullpen that much stronger," Borowski said. "I think general manager Mark Shapiro did enough this offseason where it's not like we're saying, 'Oh no, what do we do now?' But it definitely hurts to lose someone of that quality coming out of the bullpen."
Eric Wedge was also following company lines.
"I have a tremendous amount of respect for the decision he made and how he went about it," Wedge said. "It's obviously an unusual situation, but it's something we'll handle accordingly."
Of course, Wedge, who can be baffling at times, didn't seem to have an answer when asked who would back up Borowski.
"I just started thinking about it," manager Eric Wedge said. "I'm not ready to speak on that just yet. It is something we're definitely going to have to make a decision on, though."
Gee, thanks Eric Wedge, for all your fantastic insight. It's wonderful to see that you've been pondering your bullpen.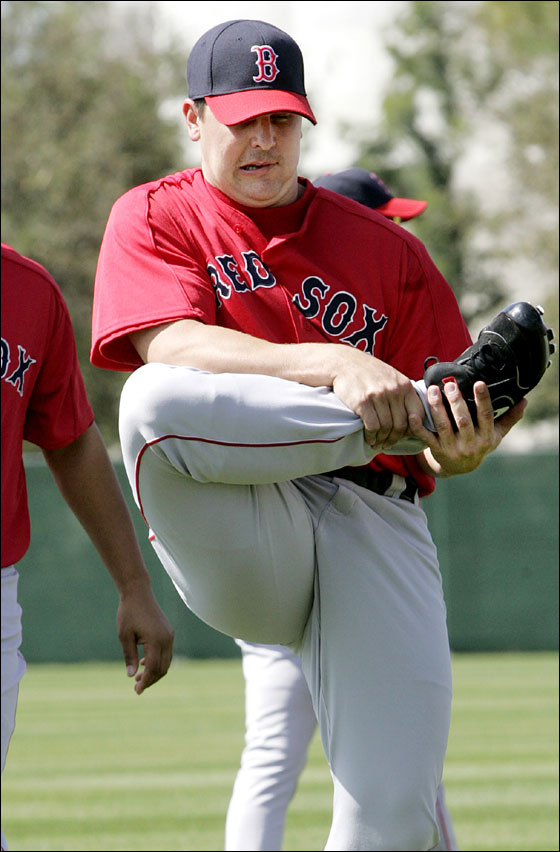 Wow,
I have to tell you that surprises for me in sports are a rarity.
Today, I was surprised.
Keith Foulke, one of the pieces signed by General Manager Mark Shapiro, retired from baseball.
Foulke, who reported with pitchers and catchers, to Winter Haven, Florida, yesterday morning, had decided by noon that his playing days were over. Foulke reported pain in his elbow and shoulder, and decided that he didn't want to go through the pain-filled seasons of 2004-2006.
Foulke nearly retired last season:
"If I can't have fun playing this game, if I don't have the motivation to prepare ... as far as strength and training and all that," he told the Boston Globe, "I'm not going to be a middle bullpen, 5.00 ERA guy. Either I can come back and be a dominant pitcher, or I'll take it to the house."
What does this mean for the Tribe?
1. It appears as though Joe Borowski is a lock to at least start the season as the Tribe's closer. I'm saying it now though; Joe Borowski will not END the season as the Tribe closer.
2. It will save the hastle of having to decide between several others at the bottom end of the relief staff, such as Fernando Cabrera, Jason Davis and Matt Miller. Miller appeared to be the odd man out, as Cabrera and Davis are out of options. They either remain with the team, or head on down the road to waivers.
3. This gives Jason Davis a clear window to earn the closer's job, which I believe the Tribe management is secretly hoping he would do. Signing Borowski and Foulke, in my humble opinion, bought the Tribe a year so that Davis could earn this job. His stuff is wicked. I don't believe he has a 10 cent head...just one that has had a hard job acclimating to the Bigs. If what I'm hearing is true, this looks like the season where Jason Davis shows people that not only is his stuff dominating, but so is his moxie.
After it's all said and done, this is NOT good news for the Indians. A healthy Foulke would have provided a dominant closer for the Indians, with Joe Borowski a substantial part-time closer and main setup man. Now, it's Borowski or we end up with last season...no clear closer.
But, it's not the end of the season just yet. We don't know what we were getting with Foulke, and at the end of the day, his retiring saves us the 5 million we would have had to pay him had he started the season with the Tribe. It also gives Shapiro some time to make a move if he sees he has too, or give a guy like Davis the opportunity to become the heir-apparent, or present-day closer.
Of course, as an Indians fan, you have to say, "Uh-oh, here we go again..."
Is this the start of a "painful" 2007 season?
Or is this the news we needed to find a real closer?
Sometimes you need a smack in the face to wake up and smell the coffee. Most of us hoped that Foulke and Borowski were the answers. Perhaps this will proved us and Tribe management with a large dose of reality. The answer isn't in the aged, injury prone relievers we signed, but in the youth we are developing. Let's just hope Borowski gives us enough games to allow the youth, to step up.
As far as the retirement goes, the POJO Dojo wishes Keith Foulke good luck, and thanks for the memor...er...well...
Thanks for the 3 or so hours...
Chripes...the next thing you know, we'll sign Juan Gonzalez, and have him get hurt trying to leg out a single in his first at bat of the season.