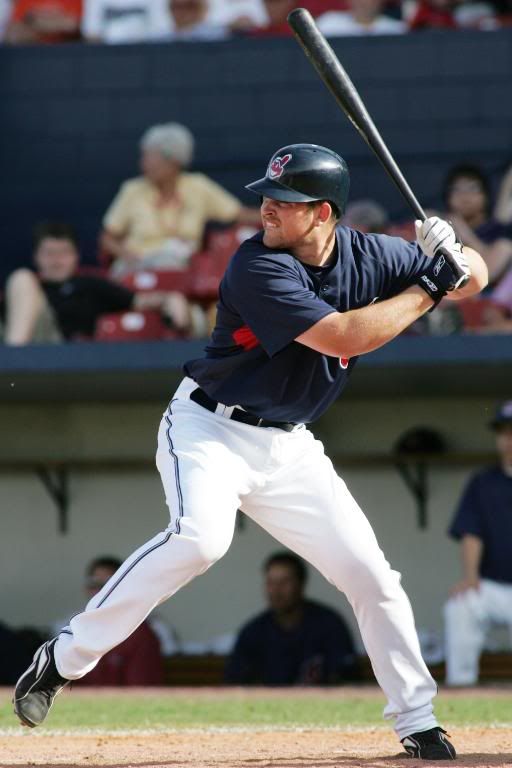 Beau Mills (photo: Tony Lastoria)
Beau Mills was promoted today to Triple A Columbus after 2 1/2 frustrating seasons in Akron. Mills was the first round draft pick of the Cleveland Indians in 2007, and came as a power-hitting corner infielder with a high baseball IQ. He backed up his first round, future-star status in his first full professional season in 2008 at High A Kinston. His line was .293/.373/.506, with 21 homers, 90 RBI and 78 runs scored, and he was named the Carolina League player of the year.
He moved to Akron in 2009, and his numbers took a bit of a tumble. He played nine more games in Akron compared to Kinston, but every major offensive number went down. His averaged dropped 26 points to .267. He scored 19 less runs, hit seven less homers, and drove in seven less hitters. He didn't take the step many thought he would after his big year at Kinston, and his stock began to drop.
He started the 2010 season back in Akron, and his season was marred by nagging injuries and off-the-field issues. He hit only .241, with 10 homers, 72 RBI and 55 runs scored in only 113 games. He had dropped off every prospect radar. As a 24-year-old, many believed that he had already plateaued, and at best, was Double or Triple-A fodder.
Mills started the 2011 season at extended spring training thanks to Achilles tendonitis. After a long and arduous six-week rehab, Mills was activated, and for the third straight season, in Akron. Not a good sign that the Indians had high hopes for their former first-rounder.
But a funny thing happened. Mills began to hit the ball. For the first time since 2008, Mills started to look like the player that the Indians were hoping for when they drafted him. Up through today, Mills had a solid .300/.358/.522 line, with 11 homers and 49 RBI in only 61 games. He struck out only 37 times, with 22 walks, showing a bit more selection than in the past as well.
This earned him his first (and hopefully last) promotion to Triple A Columbus.
It's far too early to state with any sort of fact that Beau Mills has "figured it all out." The fact of the matter is that Mills was playing at the same level for 2 1/2 seasons. Any player with the baseball IQ and power potential that he has is bound to adjust to a level in that amount of time. So the question then is whether or not he can replicate this year's stats in Columbus to close out the season.
It's a big turn of events for the once-lost-prospect, who now finds himself one step away from the big leagues. He's likely heard the term 'make-or-break' before, but in the land of the minors, this Triple A step really is a 'make-or-break' move. Can Mills continue his 2011 production in Akron, or will he revert to the 2009/2010 version of himself?
If the latter is the case, then Mills ultimately turns in to the type of player that routinely litter Triple A clubs for several years, get a taste of the majors when major league players hit the DL, but ultimately never make the next move. Most folks have labeled Mills in this category (or worse) since his struggles began in 2009.
If he can continue his progression, however, than at the very least, Mills becomes a potential big bat that the Indians could call up should something happen injury-wise to either Matt LaPorta and/or Travis Hafner. Both players have had DL stints this season, so having some cushion would provide a boost to the Indians during the stretch drive.
At best, Mills turns back into the top 20 prospect in the system that he was four years ago, and begins pushing for a full-time gig in 2012. Without any big power bats peeking their heads out at both Columbus and Akron (yeah Nick Weglarz, I'm talking to you), Mills becomes a hot commodity in a system that needs him to be just that.
The other thing to think about is Hafner, who has been a walking injury for three seasons, and is under contract for only one more season. Mills continuing his offensive "rehabilitation" gives the Indians an in-house fix when they need it.
Of course, that's a whole lot of time, and a whole lot of what ifs. For now, Beau Mills is hitting the cover off the ball, and has made the next step towards the bigs. One more big step to go...