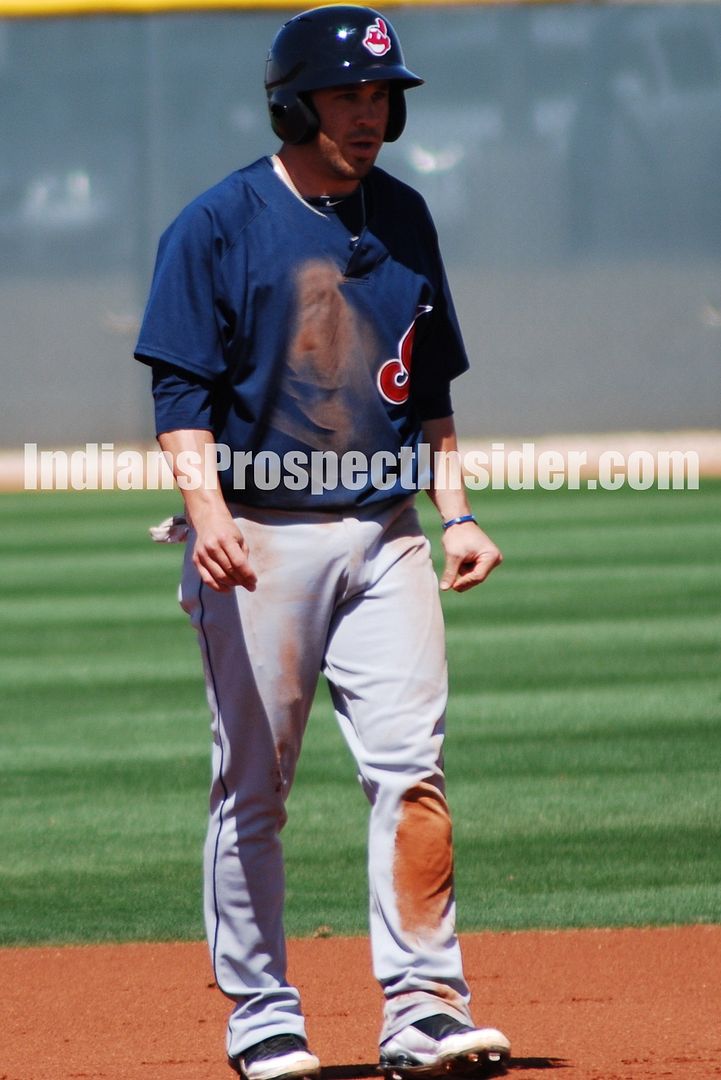 Jason Kipnis (photo: Tony Lastoria)
The Cleveland Indians have promoted second baseman Jason Kipnis from Triple A Columbus,
according to Tony Lastoria of Indians Prospect Insider
. To make the move, the Indians sent Luis Valbuena back to Columbus and designated Jared Goedert for assignment.
Kipnis is the Indians top middle infield prospect, and according to Lastoria's preeminent Indians' minor league rankings,
Kipnis was the #2 prospect in the entire organization
heading into the 2011 season. He was the Tribe's second round selection in 2009, and started his professional career as an outfielder at short season Mahoning Valley.
The Indians decided to maximize his offense by moving him to second base prior to last season, when he started his first full professional season in Kinston. He responded with a .300/.387/.478 line in 54 games, with six homers, 31 RBI and 34 runs before being promoted to Akron.
Kipnis continued his progression with the Aeros, batting .311, with 10 homers, 43 RBI and 63 runs scored in 79 games. His offense certainly overshadowed his defense at his new position, but he
was
showing growth. In Kinston, Kipnis committed 10 errors in 245 chances for a .959 fielding percentage. He slightly improved in Akron, committing 13 errors in 366 chances, a .965 fielding percentage.
The Indians didn't let Kipnis' season end when Akron finished up theirs, and promoted the second baseman to Columbus to help in their quest for the International League Governor's Cup, as well as the Triple A Championship. He responded by going 10-for-22 (.455), with three doubles, two triples, two homers and three RBI in the series. Most impressive was his performance in the clincher, when as the DH, he went 4-6, hitting for the cycle.
He wasn't done showcasing his massive offensive game, falling a single short of throwing up back-to-back cycles in the Triple A Championship game against Tacoma. He ended up going 3-4, with three runs, a homer and an RBI. In making his sparkling Triple A debut, Kipnis showed Tribe brass that he could perform under pressure after a promotion. No, it wasn't the Indians, but there's no doubt that the Triple A playoffs mimicked a potential big league call-up in the future.
The Indians kept the Kipnis-ball rolling, sending him to the Arizona Fall League so he could gain some more experience at second base. Kipnis came out of the AFL gates slow, which is understandable considering it was his first full minor league system, complete with stops at High A Kinston, Double A Akron and Triple A Columbus. After his first three weeks, his line was a horrendous .159/.213/.409 with 2 HR and 10 RBI. He walked 3 times, struck out 5, with a stolen a base.
In typical Kipnis fashion, he went on an ungodly tear to end the season, ending the year with six straight multi-hit games and seven of the last eight. During those six games he he 14-for-26, and raised his average from .173 to .295. He has also had an extra base hit in six straight games and in 12 of 19 games played.
He ended the season with three homers, 19 RBI and 13 runs in those 19 games.
Kipnis started the 2011 season back with Triple A Columbus under the assumption that he would play there a full season to solidify his defensive skills. Chris Antonetti was hoping that the top prospect would be seasoned and ready at second for the Indians to make a playoff push in 2012. They even signed Orlando Cabrera to a one-year deal to hold down the fort at second. Well, best laid plans are made to be broken, and the Indians decided to contend a year sooner than many thought.
Kipnis did his part this season, and while he's struggled at the plate lately (in his last ten games, his line is a less than stellar .103/.182/.205, which may be more about traveling across the country in his all-star game spectacular), he's had another solid season overall. He's currently batting .281, with 12 homers, 54 RBI and 64 runs, in 90 games, and he was chosen for the XM Futures game (lead-off homer), and the Triple A all-start game (1-2 with a double).
While Kipnis is a work in progress in the field for sure, he continues to improve yearly. This season, he's committed 11 errors in 370 chances for a .970 fielding percentage, another decrease in errors and increase in percentage from both Kinston and Akron in 2010. While he still as a ways to go in the field, the Indians figured they could overlook his defense for that potent bat. Kipnis has proven that he is a quick learner, and it's a testament to his ability that his offense has flourished with the move. Many lesser players have disappeared into playoff oblivion.
Kipnis figures to start at second base for the foreseeable future, moving Orlando Cabrera to the utility role. It should be interesting to watch how Cabrera reacts to the move, since the 15-year veteran surely didn't sign with Cleveland to sit on the bench. Hopefully, being a veteran presence on the team, as well as being in the midst of a late-summer playoff run will be enough to keep him happy. When I talked to Tony Lastoria last night about Kipnis and Cabrera, he voiced a similar concern:
"The only issue really centered around Orlando Cabrera and how he would handle losing his starting position yet again, something that with his outspokenness we will surely hear about this weekend."
While it's clear that Kipnis will only be playing second, there is a slight possibility that the Indians could dabble with him playing a start here-or-there in the outfield, since that was his primary position in college and his first half-season in the minors. It's clear though that Kipnis is an infielder at this point, and with Valbuena getting sent down, the Tribe doesn't have enough infielders to allow Kipnis any extended time in roaming the corner outfield slots at Progressive.
My best guess is that Mark Shapiro and Chris Antonetti see any time for Kipnis in the outfield as a potential roadblock to his improving infield performance. I happen to give Kipnis a bit more credit than that, as I can't imagine that he's forgotten how to play in the outfield (again, his primary position for most of his career), or the infield for that matter, if he spent time at each position. He's got a high baseball IQ, and you have to take that into account. Of course, being a 2nd baseman major leaguer is a finicky thing, just ask Chuck Knoblach and Steve Sax, who both suffered from "Steve Blass disease" at second base, and it cost them their major league jobs.
Kipnis is the type of player that every team wants. He plays with a high energy, and is one of those kids that's doing it for more than just the money, although I'm sure that the cash will come, and a whole bunch of it. Kipnis was more than excited, first throwing up a bit of a
mystical tweet
, followed by something a
bit more clear
.
Make no mistake, Kipnis is extremely talented, and while a host of people have been preaching either patience (oh, it's too fast, he can't play defense yet), or trade (I'd be okay with dealing Kipnis), both would be a mistake. Kipnis is a can't miss prospect, and will be one of the best, if not THE best second baseman in the league in a few years. He potentially could be the spark that this offense currently needs. Should they hold off on moving him up? Sure, in a perfect world, 2012 would be his landing date, but the pennant chase changes everything, and Kipnis has proven that call-ups suit him just fine. According to Lastoria,
"...it is definitely the right move and right time to make the move...he (Kipnis) should add some much needed punch to the lineup in need of it and in some ways is like a trade pickup in itself."
Kipnis has historically shown explosion after a promotion, and I don't expect this to be any different.
The move in many ways reminds me of the Indians' call-up of Asdrubal Cabrera during the playoff run in 2007. Cabrera was called to take over second base for a struggling Josh Barfield, who was hitting a paltry .244, with two homers, 48 RBI and 49 runs in the middle of a playoff run. ACab had been hitting a combined .310 in Akron and Buffalo (mostly Akron, as he'd only played a handful of games for the Bisons before the call-up), and provided the Tribe with an in house "trade." With the Indians offense sputtering in early August, Cabrera came up and brought a quick spark. Cabrera was hitting .300 as late as September 14th, and ended up hitting .283.
The Indians used the Cabrera call-up along with a late-July trade for former Tribe All-Star, Kenny Lofton to give the Indians a lift during the dog days of Summer. While neither alone were necessarily the essential cog, their signings helped filled holes in their lineup, both offensively and defensively.
Kipnis likely could provide the same boost offensively. Orlando Cabrera, the player Kipnis will be taking over for, is currently hitting .244 (remember, Barfield was hitting an identical .244), with four homers (2 for Barfield), 38 RBI (48 for Barfield, but with three weeks more game action) and 34 runs (15 less than Barfield, again, in three less weeks). The only complication with Cabrera is supposedly his clubhouse presence, especially with regards to Asdrubal Cabrera, who by all indications believes OCab is the player that helped him take the next big step. Still, there comes a time when the best player has to play. Remember, Barfield was nearly run out of town, and OCabs stats are
at best
, equal to Barfield's. You could make a case that Barfield's numbers were a bit better.
It also appears as though the Indians may be mimicking the 2007 Indians by attempting to sign a former member of the organization, as they did with Kenny Lofton. The front office continues to pursue several outfielders to help fill the long-term void thanks to the long-term injuries to Grady Sizemore and Shin-Soo Choo, and the short-term health issues with Travis Buck and Michael Brantley. Heading the list are two former Indians', Ryan Ludwick and Coco Crisp. Other outfielders the Indians are reportedly discussing include the Cubs' Kosuke Fukodome, the Royals' Jeff Francoeur, the Nationals' Mike Morse and the Athletics' Josh Willingham.
While Kipnis shouldn't be expected to carry this team, there will be some high expectations with the call-up. Along with those expectations come the trappings that Cord Phelps, Luis Valbuena and to some extent, Lonnie Chisenhall have felt in recent weeks. All three have struggled a bit during their respective time with the big league club, and all three have felt the wrath of the Tribe faithful. Kipnis has even higher expectations than all three (with the exception of Chisenhall), so if he struggles early, it will be interesting to see how he handles it, as well as how the Indians' management handles it. Lastoria also professed a bit of a cautionary tale for these early days in Kipnis' big league career:
"I'm sure there will be some early struggles, but I expect him to adjust quickly and settle right in at second, a position which could be his the next six to seven years."
Kipnis isn't going to be up for a cup of coffee. If he struggles, I don't see them sending him down quickly. They'll give him a chance, as they did Chisenhall, to gain traction and plant some roots at second. My best guess is that Kipnis won't be seeing Triple A next to his name much more in the future. If you ask me, Kipnis truly is the Tribe's best position prospect (sorry "Chiz" fans). I like him better than Chisenhall, and that's high praise, since "Chiz" is a big-time talent.
I'm sure that Chisenhall will be an All-Star in the future, and one of the better third basemen in the league, Kipnis has the potential to be the type of impact second basemen that just aren't typical. Kipnis has the ability to be as good as guys like Robinson Cano, Chase Utley and Ian Kinsler.
He is that good, and that explosive
, especially when you take into account the fact that he's a middle infielder. His call-up, in my opinion, is a few weeks too late. He should have been up right after the all-star break.
Now, it certainly is time to see if Kipnis is as good as his numbers and baseball IQ would suggest. Welcome to Cleveland Jason Kipnis, and may your stay be long and fruitful.