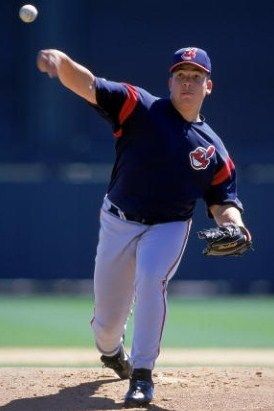 Go ahead, read that title over a few times and let it settle in. It appears that the Cleveland Indians are not only trying to sign Bartolo Colon, but they may end up in a bit of a bidding war for the services of the 37-year-old righty.
While nothing has been confirmed as of yet, Colon told reporters prior to a start during yesterdays Dominican League playoffs that there were three teams interested in potentially signing him. Of course, the team that's already been talked about all winter are the Indians. That's not a surprise. What is a bit of a shocker are the other two teams.
Who are the other two teams? As hard as this is to believe, it appears as though the Texas Rangers and the New York Yankees have been scouting Colon. The Rangers and the Yankees were both the rumored winners in the Cliff Lee sweepstakes at one time or another during this past offseason. Now, they apparently decided to find another Tribe starter.
Rumors were abound that both teams were fishing around Ontario and Carnegie to see if Fausto Carmona was available in a deal. When that door was politely closed, they apparently decided that it was imperative to sign anyone that used to wear Chief Wahoo on their jersey.
I seriously couldn't make this stuff up if I tried.
Colon was fairly dominant in his seven starts for Águilas Cibaeñas, going 2-1 with a 1.47 ERA. The Indians, in need of a veteran starter, were known to be interested in their former ace. While Colon being a factor in free agency is somewhat jokeworthy, it may turn out that the joke is on the Indians after all.
The culprit of this potential battle for Colon's services is former ace Cliff Lee. While I'd like to think that Lee didn't do this on purpose, I'm starting to wonder. Is there some greater conspiracy at work here? Did Rocky Colavito bury an old jersey under home plate at the Jake? Is Jaret Wright somehow involved?
When Lee spurned both the Yankees and the Rangers by signing with Philadelphia, the move certainly took the Yankees by surprise. There's no doubt that the Yankee-ego had all but assured itself that Lee was a lock. Nobody spurns the Yankees when they throw around that kind of cash. Oops.
Both the Yankees and the Rangers teams have been actively seeking players that can add depth to their rotation. The Rangers have been more active. The Yankees, well, haven't. They seriously didn't have a back-up plan in place, until now of course.
After the Lee debacle, the Yankees have been hoping that Andy Pettitte would return for one more season, but with retirement seeming more and more likely for the lefty, the Yankees may be ready to turn in another direction. Apparently, Bartolo Colon may be at the top of their list.
Seriously, that's hard to say with a straight face.
The Rangers weren't as stoic and whiny as the Yankees after losing Lee. They went out and signed Brandon Webb to a one-year, three million dollar, incentive-laden deal. Webb has only made one start since the start of 2009, so the gamble is obvious for the Rangers, but they have contingencies in place.
It's believed that the Rangers would like an alternative to Webb should the lefty not pan out, and since they only dropped three million, they had money for another insurance policy. Enter Bartolo Colon.
Both teams seem set for return to the playoffs, and at the very least, are a lot closer to the playoffs than the Tribe. If that's important to Bartolo (and that's questionable), the Indians may not have a chance in this fight.
Cleveland is the one team that can guarantee Colon a sure-fire spot in the rotation. I've read some stuff saying that Colon would be the #5 starter, but the number by his name doesn't matter. As long as he's healthy, he'll start for the Indians.
The Yankees and Rangers would likely spot start him unless someone didn't pan out. In other words, he'd end up in the same situation that he walked out on in Boston and Chicago, his last two major league destinations. So perhaps these three teams are on some even ground.
Still, you have to find the ironic humor in all this. Cleveland needs a starter, and they've been universally panned for even considering Colon. The former Cy Young winner is believed to be long past his MLB prime, has spent the better part of the past ten years eating (although he's supposedly in great shape), and seemed to be an easy get for the Tribe, should they decide to go that route.
Now, Bartolo Colon has not only managed to become relevant, but has potentially placed himself in the middle of three teams looking for a starter. Only in Cleveland.
The ultimate irony in all of this is Cliff Lee. He was acquired by the Indians many moons ago through a trade with the now-defunct Montreal Expos. Who did Cleveland give up to get Lee, Grady Sizemore, Brandon Phillips and Lee Stevens? How about Bartolo Colon. So Colon left because of Lee in 2002 (which was a good thing), and now, perhaps he's done it all over again (perhaps another good thing).
So, what does all this mean?
I'm still not sure that I even want the Indians to sign Colon. There's nothing that indicates he can be effective at 37, or 47, or however old he may be. I can tell you that having the Yankees and Rangers interested sure makes me want the Indians to sign him all the more.
I know that it's not very Sabr of me, but such is life. It may be the only win the Tribe can get against the Evil Empire and the World Series runner-up Rangers this season, so I'll take what I can get.
The real humor in all this is that it's distinctly possible that Colon has made these comments with the direct intent to garner more cash with whomever he ultimately signs with. It's a common ploy for most agents and players to let it be known that they are wanted somewhere else, and Colon has been around the block a few time.
For some reason, this all makes some sort of strange, 'you have to be kidding me' sense. The New York Yankees and Texas Rangers outbidding the Indians for Bartolo Colon.
Shhhhh, I hear Jamie Moyer is available.